ActUp offers innovative productions, theatre plays and youth drama
Actup offers exciting and innovative short and full length productions. Many productions are entertaining theatre plays while others are shows that offer the opportunity to include music, dance or other activities. Productions have been performed by professional or local theatre companies, university drama groups, performing arts groups, schools, or on radio.
Theatre plays combine elements of intrigue, edge and surrealism anchored with strong storylines and characters. Imagine two people sharing more than a seat on the train and only one surviving in Rail Friends, sympathise with Mrs Fish as she eats her sandwiches while sharing with us the Prime Minister's official visit to the urinal that she cleans, in Woman with Head hospital patient Draylee Slythe lets us into secrets about buying new shoes and laces, best friend Charlie Chalker, and the Talent Quest, and The Birthday Stain is about an encounter between unusual family members that leaves a gory trail.

Youth drama (previously ActUpStar plays) encourage children and young people of all ages and abilities to participate and enjoy.  Differing performance lengths, speaking and non-speaking roles, minimal settings and props, these plays have it all. And they can be easily adapted to suit production needs around numbers and settings. Use them as a main production, classroom performance or perform two or three together to make a fun stage adventure.
Information and licenses
Information and licenses to perform any of these plays or shows can be obtained by contacting Playmarket.
Other contact
Email: mark@actupinternational.com or mark@actup.co.nz
Post: 28 Creswick Terrace, Northland, Wellington 6012, New Zealand. 

Recent production/s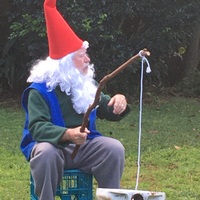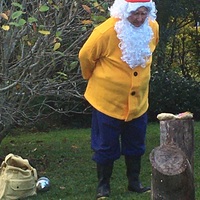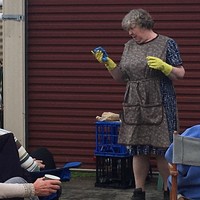 Two plays, Two Gnomes, A Fishing Pole and A Crusty Tale, and The Urinal, Mrs Fish and The Prime Minister were recently performed in a two week season by Queensland-based @3bcreativeqld

 as part of their Kicking Covid's Arts season. Both shows were directed by Anne Grant. 
Pictured above (left to right) are the two boisterous gnomes A1127 (Rob Hobson) and Sample (John McMahon) and the unstoppable Mrs Fish (Joy Marshall).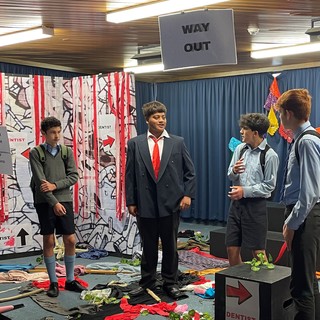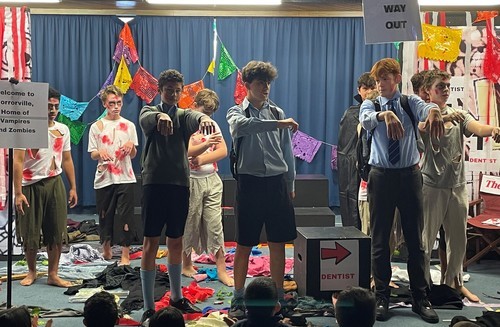 St Patrick's College, Wellington Year 10 students get lost in Horrorville in a recent production of 'Vampires and Zombies'. Play directed by drama teacher Keely Bell. (Photos published with permission)